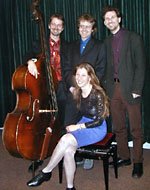 The ensemble performs a wide range of musical styles from the classics through to romantic pop-ballads and musicals up to traditional and modern jazz. It provides a fascinating musical atmosphere with its harmonic sounds, virtuosity and its sheer joy of playing. It moves easily from swing grooves to hot Latin rhythms. The lively interaction of the members among themselves and their creative improvisations lend a special touch to all of her pieces.
The Kati Albert Band offers a musical framework which makes every one of her events, be it a presentation or a music festival, a successful event "they just play the way they are and that really grooves." (Ulrich Zander - TIP)
In 1991 Kati Albert obtained her certificate in vocal jazz and musical education in Budapest and participated in master classes with several international stars of jazz music, such as Norma Winston, Judy Niemack and Norbert Gottschall.
She also worked with a number of A-Capella and World Music project artists of the international jazz scene. She is a charismatic singer who impresses with her intense presence on stage, riveting her audience with emotional expression, vocal virtuosity and multifacetism.
The apparent ease with which she handles all styles perfectly as well her precise timing produce a fascinating live act much applauded by her audiences.
"The different cultural origins of the interpretations, the variety of styles, genres and musical characters impress and convince" (Ulrich Zander - TIP)
We would be pleased to send you a promo CD of her work on request.
Contact:
Kati Albert:
This email address is being protected from spambots. You need JavaScript enabled to view it.
Booking: 030 / 391 66 15